Best Foundation for Combination Skin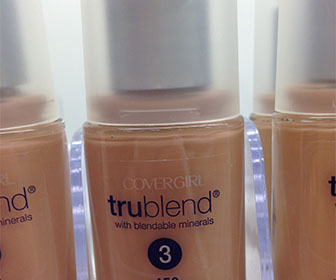 By Amanda Green
It is always hard trying to find a really awesome foundation that will look great without making your all natural skin suffer the consequences. If you have oily skin, it's hard to find a foundation that doesn't make it any oilier. If you have dry skin, you may have a hard time finding a foundation that doesn't dry your skin out further. Then there are those of us with combination skin. It can sometimes feel like a win-lose situation no matter what we do. If you find something that works for the dry parts of your face, the oily parts are greasier. If you find something that works for the oily parts of your face, the dry parts get drier and tighter feeling. What is a poor combination skin sufferer supposed to do? You might think that there is no way you can satisfy all of your unruly skin problems at once, but we have to disagree. There really are products out there made just for combination skin or that simply works great for your skin type. Tips, tricks, and ideas on finding the best foundation for combination skin are just a quick read away. Check out our suggestions on finding your perfect combination skin foundation below.


Cream To Powder Foundation


The best foundation for combination skin is probably a cream-to-powder type of foundation. This foundation is a rather interesting and unique combination of a creamy foundation and a pressed powder. Although this type of foundation looks rather greasy in it's natural form, don't be fooled. Once placed on your combination skin, the creamy aspect disappears to reveal a slight matte look. This means your end result will be what is known as a 'semi-matte' or powdery finish. As a bonus, you do not need to add a powder over the top of this foundation as it has powder already built in. Keep in mind that less in definitely better with this type of foundation, because if you apply too much you will be left with a heavy, caked-on look that is anything but attractive or healthy for skin.


Who Carries Cream To Powders?


Almost all of the biggest names in the make up industry carry cream-to-powder foundations. A few of these big names include: Cover Girl, Maybelline, Mary Kay, and Revlon. Finding the right one for you simply depends on your exact skin tone and budget.


Liquid To Powder Foundation


Another idea is liquid-to-powder foundation. This type of foundation comes in the form of a very dense powder that almost feels like a gel when you touch it. Liquid-to-powder foundation is very easy to apply evenly, and works real wonders on combination skin. These types are water based, so there's no excess oils, and boast little to no wax-like ingredients. Like the cream-to-powder foundation we just discussed, there is no need to add a powder on top of this foundation as it is already built right in.


Who Carries Liquid To Powders?


You can find a liquid-to-powder foundation from many companies, big and small. Just a few of the companies currently carrying this type of combination skin foundation include: Almay, Maybelline, Cover Girl, Sephora, and Hourglass Cosmetics.


Powder Foundation


The last great choice is strategic use of a powder foundation. When using a strictly powder foundation, you can strategically place more of the powder on the oily pieces of your skin, because of course, there is more oil on those parts that needs to be absorbed. Then you can simply use a bit less on the dry portions of your skin for an all over, complete finish that leaves your skin looking lovely without any strange wayward lines across your face like a strictly liquid or stick foundation might do. As a big bonus to those of you who aren't make-up experts (and let's face it, most of us aren't), powder foundations are the easiest to apply and make look good out of all the many types of foundation there are out in the industry today.


Who Carries Powder Foundations?


You can find powder foundation anywhere, everywhere, and by everyone. The key is finding one that fits your skin tone. Finding the perfect shade can be difficult, but a little bit of skin testing and comparison will figure it out for you. Just dab a bit of any sample onto your hand or cheek to see how well it matches your natural skin tone. Once you figure it out, you've found your perfect powder! For the sake of being helpful, here are just a scant few of the companies currently carrying really great powder foundations: Elf, BareMinerals, Cover Girl, Clinique, Almay, and Revlon.

Like all things that have to do with your skin, whether it be a wash or any type of make up, only you can actually decide what works best for your skin. Everyone is different. Some people are looking for a specific type of look when choosing a foundation, while others are simply- perhaps desperately- trying to find something that will work for them, no matter how it works. Never be afraid to do a little experimentation. Even if you think one thing works great for you, one of the other things we mentioned here might work even better for you. New products come out all of the time, and it is very possible one of those new products might end up being your best foundation for combination skin. So, more importantly than anything else you have read here, remember to keep an open mind and open eyes. Your miracle product will come!